Java is one of the biggest islands in Indonesia. It is over 20 times larger than Bali and fairly easy to get around – it is just a 1-hour flight from Bali. The eastern part of Java Island also offers impressive things. You'll be surprised to discover unspoiled panoramas in East Java - ancient temples, huge national parks, amazing waterfalls, and smoking volcanoes.
Find out why East Java is one of the best places for cycling adventures! 🚵
Visit the sacred crater of Mount Bromo
Mount Bromo is an active volcano which offers magnificent panoramic views of the surrounding nature. At 2,329 meters (7,641 ft.) above sea level, this is the most well-known volcano in Indonesia 🌋 The most popular destination around this area is the crater. It constantly producing sulfurous fumes, creating a strangely captivating sight. This crater is a sacred place for locals (Tengger people) and they often place some offerings near this crater.
Imagine yourself riding to the top of the volcano crater with its 10 km long Tengger Massif with terrains resembling the moon! Isn't it exciting?
Pic cr: familyearthtrek.com
Explore the Bromo Tengger Semeru National Park
The Bromo-Semeru-Tengger National Park covers a massive volcanic area of 800 square km. With the average temperature around 0-25 degrees Celsius, the weather is relatively cold and refreshing. Most of the locals around the National Park embrace Hindu teachings as their religion, so you can find a number of Hindu temples around it.
There are a lot of outdoor activities in this area including walking around, riding a horse, and traveling around in a jeep. Hiking and biking in this area are also popular and have their own charm. You surely don't want to miss some of the best mountain bike trails filled with technical uphills and fast downhills, do you? 💪
Pic cr: tourbromomurah.info
Ride on enduro trails to Probolinggo
For those who don't know what does enduro means, it is a type of mountain bike racing where the downhills are timed, and the uphills are mandatory but not timed. It is a good idea to ride from Mt. Bromo to the north, precisely to the city of Probolinggo. Through the way to Probolinggo, you can find an exciting single track with a few short climbs and lots of downhill. It sounds fun, right? 🤸
Pic cr: infinitymountainbiking.com
Enjoy the nature around Brantas River's spring
With 320 km total length, the Brantas River is one of the longest rivers in Indonesia. The water of the river originates from the Mt. Arjuna and it flows into six cities in East Java province. After playing around in the mountain area, it is a good idea to have a relaxing bike tour! A ride around the spring of the Brantas River will guide you to a local forest, apple plantations, vegetable farms, and rice paddy fields 🌾 🌾 🌾
Pic cr: wikiwand.com
Ride with us!
Experience the mountain bike tour designed to showcase the best trails in Bali and East Java with Infinity Mountain Biking on 'Bali & East Java 9 Days Enduro'.
This mountain bike tour is designed to showcase the best enduro style mountain bike trails in Bali and around the Bromo National Park in East Java. The ride is quite challenging with some technical uphills, fast downhills and everything else in between! 🔥 👊 💯
https://infinitymountainbiking.com/longer-rides/java/bali-east-java-9-days-enduro.html
Pic cr: infinitymountainbiking.com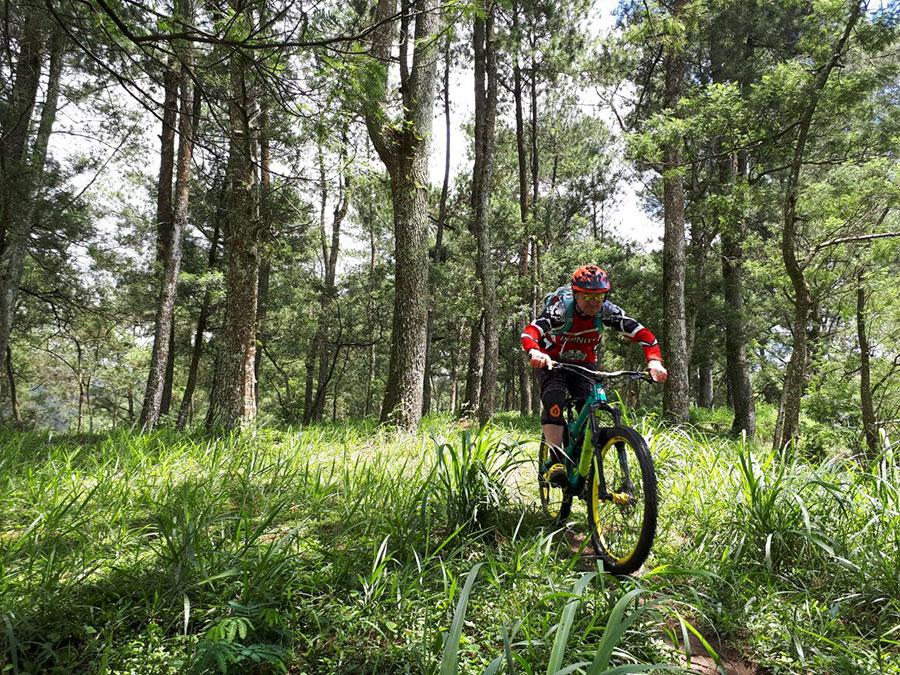 References
The Bromo Tengger Semeru National Park – Indonesia Travel. (n.d.). Retrieved from https://www.indonesia.travel/gb/en/destinations/java/bromo-tengger-semeru-national-park
Sisworo, H. (2019). Bromo, The Sunrise at The Peaks of Java. Retrieved from https://travelingyuk.com/bromo-the-sunrise-of-java/145733/?utm_source=idle&utm_medium=dekstop&utm_campaign=reload
Pic cr: infinitymountainbiking.com