Hike to the Summit of Mount Batur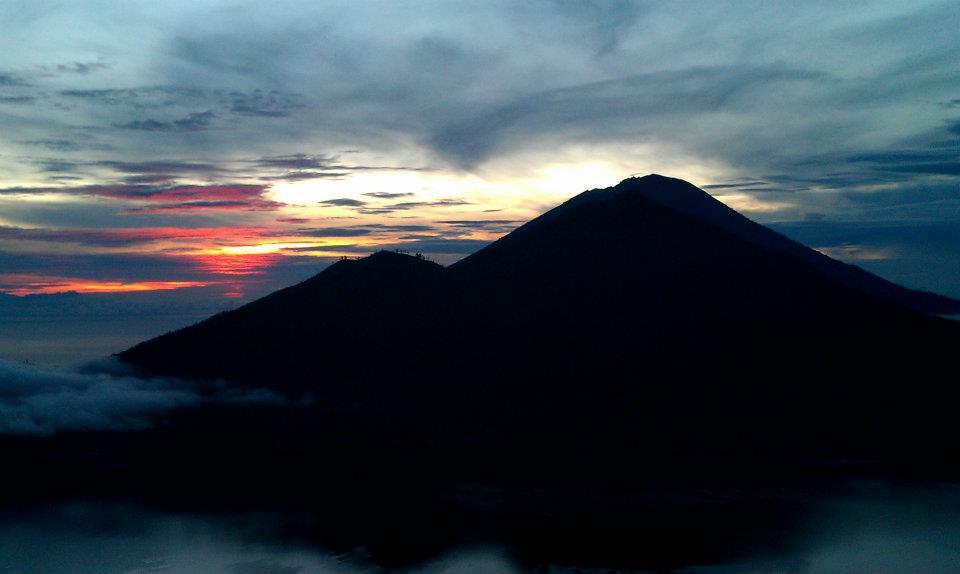 We know this is not a mountain bike trip but we have gotten so many inquiries about this hike that we decided to offer it in our selection of day tours. We have handpicked an amazing local trekking guide who is super friendly, extremely knowledgeable and very professional.

Mount Batur or Gunung Batur is an iconic, extremely-active volcano that rises to 1,717m or 5,633 feet. Mount Batur can be conquered by physically-fit hikers in around two and a half hours. Climbing Mount Batur offers a rare opportunity to enjoy an unforgettable sunrise from the top of an active volcano. The views of Bali from the top are simply stunning.

After reaching the summit and witnessing the sunrise (weather permitting) we will hike around the three volcano craters - a truly spectacular experience! Our guide will carry water, snacks and breakfast for you to make this an unforgettable experience.
Itinerary
01.15am Leave from the hotel by private transportation to the edge of Lake Batur where the trek begins (Pick up in Ubud 2am, Pick up in Kintamani/Lake Batur 3am).
03.30am The climb up to the peak of Mt. Batur will take approx 2,5 hours accompanied by our experienced trekking guide
05.00am Short break before the final push to the summit
06.00am You did it! Arrive at the peak of Mt. Batur. Packed breakfast with special volcanic steamed eggs will be served at the top.
06.15am Enjoy the most spectacular sunrise at the top, weather permitting the most amazing views of three nearby mountains of Mt. Abang, Mt. Agung and Mt. Rinjani in the first light of the day.
07.00am Descend the path leading toward the lake. Drinking water will be provided.
09.00am Arrive back on the shore of Lake Batur where a stop is made at the local hot springs.
10.00am Drive back to the hotel (1 hour Ubud, 2 hours Southern beach area's)
12.30pm Arrive back to the hotel (Kuta, Legian, Seminyak)
Inclusions
Amazing and supportive local trekking guide, private transfers from and to your hotel, drinking water, simple breakfast, local snacks and fruit, coffee or tea at the top, flashlight, rain poncho (when needed), visit the hot springs after the trek (included and recommended :)
Group Size
Minimum 2 pax (all our hiking trips are organised as private departures).
Difficulty
Moderate to Difficult 3,5/5
Cross Country rides / Intermediate
50%
What to bring
Hiking shoes or outdoor shoes, light jacket or fleece, rain jacket, small backpack, head lamp (not a must but it helps to have both of your hands free during the climb). Swimwear if you would like to visit the local hot spring.
Cycling Conditions
We hike about 10km on off road trails and rocky terrain. You should be reasonable fit in order to enjoy this hike and to be able to navigate the varying terrain. You should wear comfortable shoes appropriate for outdoor activities. (minimum sport shoes or sneakers, flip flops are NOT suitable for this hike!)
Pick Up & Drop Off
Nusa Dua, Sanur, Seminyak or Kuta area's: 01.00am, Ubud: 02am, Kintamani: 03am
Bikes
New model 2022 Polygon Siskiu D7 full suspension bikes for the adults.
The bikes come with standard with flat pedals but we also can mount your own pedals onto our bikes.
Prices & Availability
The prices for the Hike to Mount Batur depend on with how many people you will book (at the same pick up address) and where you are staying (South of Bali or Ubud). Children younger then 16 years old get US$10 discount.
01-04 people per booking:
US$90 per person staying in Southern beach area's
US$82 per person staying in Ubud areas
Payments can be done through:
Domestic bank transfer in IDR
Credit card through PayPal (if you dont have a PayPal account you will still be able to pay with your credit / debit card through the online link we send you)
Please indicate on the booking form what method of payment you prefer.
** For our high season from June to October, we only have limited availability (maximum 2 different departures per day). After completing the booking form, we will sent you an online payment link, once we have received your payment through bank transfer or credit card using PayPal your booking is confirmed.
Inquiries & Bookings
If you have any questions or inquiries you can do so by calling our office or by filling out the 'CONTACT US' form below. Someone from our team will be in touch shortly. You can also 'live chat' with us through the chat window on our website (10 am to 07 pm, GMT +8).

Bookings can be made online through the 'BOOK NOW' form below or by WA to our office mobile +62 (0) 822 4703 1111.
We were picked up from our hotel in Seminyak at 1am (!) for the approximately 2 hour ride to the Mount Batur region. From the start our guide, Mr Sadar, was friendly and informative. We stopped for a toilet break as he warned us there were none nearer the mountain, and then breakfast number one, which was Bali coffee and battered bananas. It was very rustic, but nice. We then drove to the beginning of the trail and took a route that no one else was taking, so it was very quiet and lovely. We saw loads of shooting stars on the way up! I would say though, you have to be fit to do this trek or you will struggle. Then we got to the summit, and went onwards to have our breakfast, including eggs hard boiled by the volcano itself, and watch the sun rise. It was spectacular. After taking our time (and having lots of pictures taken by Mr Sadar) we walked around the ridge, saw monkeys, and descended. Then we were taken to natural volcanic hot pools to soothe our aching muscles and relax. The whole experience was amazing, and was about 100 for two, which we thought was great value for such a unique experience. It was one of the highlights of Bali for us.