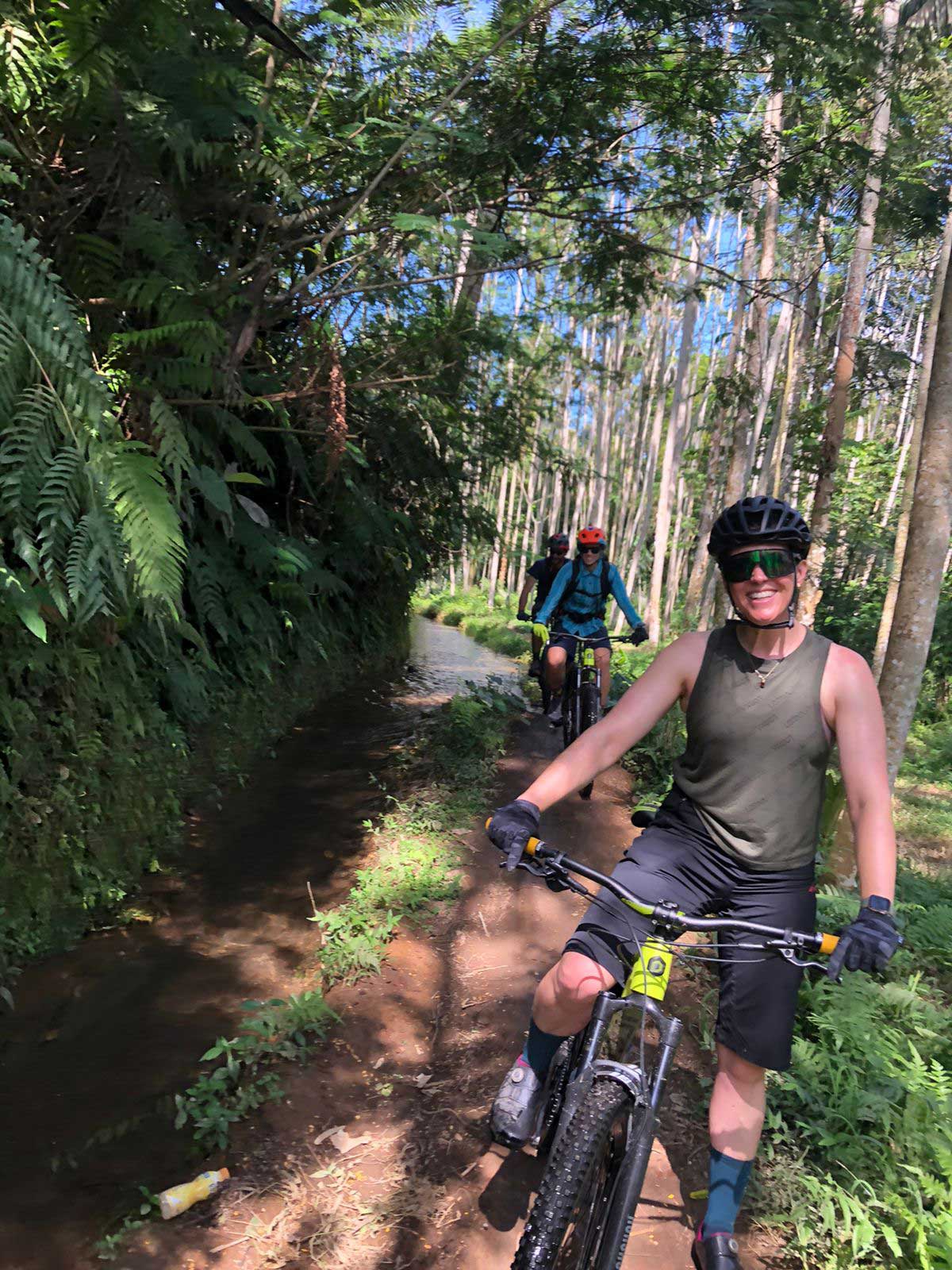 If you enjoy fast and flowing single and double track and amazing scenery then this ride is for you. We start with an early transfer from your hotel to the higher regions of the island, the volcanic core of the island. The first section is mostly downhill as we start at 1,600m above sea level and ride back all the way back down to the lower grounds. The second part of the ride is more XC orientated through the rice paddy fields. The scenery will simply take your breath away.
This ride is the next step up from our Mount Batur to Ubud Off Road. Nothing crazy such as must-take jumps, big drops or extreme downhill stuff but it's a sweet and fun pure trail ride.
If you are looking for more technical riding then our 'Secret Single Track' and 'Bali Downhill' rides might be a better fit though.
Inclusions
Guided mountain bike tour with charming, knowledgeable senior mountain bike guide
Quality mountain bike with flat or spd pedals, safety helmet, gloves (*option to bring your own bike of course)
Local snacks, fruit, lunch, drinking water, and isotonic drinks
Pick up and drop off transfers from your hotel (Seminyak, Kuta, Nusa Dua, Canggu, Sanur, Legian and Ubud areas)
Vehicle support during the ride
Our passion and experience :)
Group Size
Our day rides run with an average from 2-4 people and the price depends on how many people are joining the ride in the same minivan.

Larger groups are of course welcome as well! Please contact us for availability.
Difficulty
Blue with some sections Red.

Intermediate/Advanced: Tours are suitable for experienced mountain bikers only with great fitness and strong bike handling skills. Riding is primarily on rough doubletrack and single track. Sections of trail can be challenging with frequent ascents and descents of significant length. Trail conditions can change rapidly due to weather conditions and natural elements. Please make sure you are not choosing a tour that is too difficult for your skill level. This is your vacation, not army camp! Expect to ride about 4-5 hours per day, covering an average of 45km. Send us an email or call our office if you have questions.
Trail / Enduro rides / Advanced
75%
Style
Great downhill orientated off road trail ride, ride able for anyone that's up for a challenge, no crazy drops or anything but lots and lots of fun!
Cycling Conditions
Cross Country and Trail mountain biking. We cycle about 35km on beautiful fast flowing single track and lot's of double track through the jungle. There are a few sections on small paved roads to connect the different trails. You should have good bike skills and fitness to be able to fully enjoy this ride. You should wear comfortable shoes appropriate for cycling for this ride.
Total distance: 35km
Altitude at the starting point: 1,400m
Altitude at the finish point: 270m
Climbing meters: 300m
Pick Up & Drop Off
Nusa Dua area's: 07.00am, Seminyak, Canggu, Sanur and Kuta area's: 07.30am, Ubud area's: 08.30am, expect to be back at your hotel around 04.00pm (but this may be variable by group)
Bikes
New model 2022 Polygon Siskiu D full suspension bikes with dropper post.
The bikes come with standard with flat pedals but we also can mount your own pedals onto our bikes.
Prices & Availability
The price for our day rides depends on how many people are joining the ride in the same minivan:
01-04 People: US$90 or 1,300,000IDR per person - (2022 Polygon Siskiu D full suspension bike)
5 people or more: please contact us availability and group rates
Children up to 16 years old (all children must be accompanied by a parent or legal guardian)
US$70 or 1,000.000IDR - (adult bikes in size S with 27,5 wheels suitable for children from 157cm, or any regular adult bikes)
** BRINGING YOUR OWN BIKE? here with your own bike in Bali or visiting from Java and bringing your own bike? From now on you can join in on any confirmed day ride at US$60 or IDR850,000 per person.

This includes lunch, pick up and drop off transfers, any entrance fees, and mountain bike guide.

T&C for own bike prices:
Needs to be a confirmed departure where you join in and there is enough space in the van.
Using your own well maintained mountain bike and safety gear.
If everyone has their own bike we need a minimum of 2 people booking to confirm a new departure
Payments can be done through:
Domestic bank transfer (IDR)
Credit card through PayPal, if you don't have a PayPal account you will still be able to pay with your credit/debit card through the online link we send you (US$
Cash on the day of the ride, for last minute bookings only (IDR)
Please indicate on the booking form what method of payment you prefer.
After completing the booking form, we will sent you an online payment link, once we have received your payment through bank transfer or credit card using PayPal your booking is confirmed. We can allow cash payments as well (IDR) for last minute bookings where we still have space available (subject to availability).
Inquiries & Bookings
If you have any questions or inquiries you can do so by calling our office or by filling out the 'CONTACT US' form below. Someone from our team will be in touch shortly. You can also 'live chat' with us through the chat window on our website (10 am to 07 pm, GMT +8).

Bookings can be made online through the 'BOOK NOW' form below or by WA to our office mobile +62 (0) 822 4703 1111.
Volcano Trail was the best day I have had on a bike. Fast, loose, challenging, stunning scenery, beautiful villages, lovely people and awesome fun - and that was just the first 10km ! Rode on 20th Jan with 3 others and Rudi on well maintained high spec bikes for a total of 33km, 262m climbing and the amazing 1330m descending. No jumps or silly stuff but you will spend a lot of time hanging off the back of the bike, drifting through volcanic soils or grabbing a big handful of brakes at the last minute - 4/5 rating is about right and this is a ride which will test a good XC rider. My only regret is I did not have time on this holiday to book another ride. The Volcano Trail is a must do for any MTB fan when in Bali.